Reading Curriculum Statement
We follow the National Curriculum for English. The National Curriculum divides reading skills into two dimensions: word reading/ decoding and comprehension. We recognise that both these elements are essential to success and promote the acquisition of both sets of skills through high quality teaching across the curriculum.
We have adopted the Read, Write Inc. Phonics Programme, to ensure that phonics is taught in a systematic and engaging way. We have clear expectations of pupils' phonic progress which is assessed at least every eight weeks, but often sooner. We have invested in high-quality phonic books which underpin the sounds pupils have been taught.
Reading is a developmental process and part of life-long learning. Therefore, there is an expectation that every new English unit begins with a quality text which challenges pupils, including the more able. By developing a comprehensive range of reading skills, we aim to foster in the children a love and appreciation of a wide range of literature, including texts from our literary heritage.
Pupils' acquisition and command of vocabulary is key to their learning and progress across the whole curriculum and the link between vocabulary acquisition and reading comprehension is crucial. We develop vocabulary actively, across our curriculum. We recognise that it is vital for pupils' comprehension that they understand the meanings of words they meet in their reading across all subjects. At Caedmon Primary, pupils develop reading in all subjects to support their acquisition of knowledge. Pupils are taught to read fluently, understand extended prose (both fiction and non-fiction) and are encouraged to read for pleasure.
Planning for Progress:
Pre-phonics
Children in our Nursery are provided with daily 'pre-phonics' sessions. These sessions focus on developing essential listening skills through a structured programme in order to prepare our youngest children for their phonics lessons when they move into Reception.
Phonics
From Reception, all pupils begin to learn phonics using the Read, Write Inc. scheme. This continues into Year 1 and the intention is that all pupils are confident and competent with their phonic ability by the end of Year 2.
Reading Comprehension
Towards the end of Year 2, most pupils begin daily reading comprehension lessons. Pupils' reading is more focused on reading comprehension skills although some pupils are supported to continue to develop phonic ability within these lessons and also through 1:1 intervention.
Enjoyment of reading is promoted through the study of a range of texts, including poetry, non-fiction and novels. The same novels are also linked to writing lessons, providing pupils with a deeper understanding of the text.
Whole class, group and partner discussion enable children to: share opinions about themes in the text; make predictions; ask questions; summarise the information and understand vocabulary and more complex language patterns. Once these discussions have taken place, children learn a range of skills to enable them to answer questions about a text. The children are taught the skills of simple information retrieval and shown how to gain a deeper understanding of the text using the complex skill of inference. The exploration of vocabulary is a key element of reading comprehension lessons as our aim is to help pupils to develop a love of language.
The ultimate aim is for children to become avid readers who are not only able to understand a text, but are able to make judgements, express opinions and preferences – clearly justifying their reasons.
High Expectations for All
Pupils are taught phonics in groups where the learning is carefully scaffolded with additional support offered to pupils with SEND. Reading comprehension lessons are taught in ability groups within their year group and work is scaffolded for them with additional support offered to pupils with SEND. We have high expectations for all and ensure that all pupils keep up and catch up through 1:1 and group interventions. Continuous assessment is used to enable us to support and challenge all pupils – in Years 3-6 we use the Accelerated Reader programme to aid assessment.
A Love of Reading
Our aim is for all pupils to read with confidence, to know the importance of reading and to develop a love of reading from the earliest age. Reading has high priority throughout school. Books, from our Caedmon Primary School Reading Spine, are read to pupils by their teachers. These books have been carefully selected using trusted sources such as the Pie Corbett Reading Spine and Doug Lemov's Reading Spine to provide a range of classic and modern classic texts, including a strong focus on enjoying a breadth of poetry.
The focal point in each classroom is their reading area. In the Early Years, the reading areas are comfortable and welcoming, with a range of books and 'open story sacks'. In Years 1, 2 and 3, the reading areas have a themed reading display e.g. Percy the Park Keeper and a display and book box linked to their class author. Older pupils have a more streamlined and focussed reading 'zone' again with a display and book box linked to their class author. We believe it is important for our pupils to explore the wide range of genres and authors available to them. Therefore, the reading area books in Key Stages One and Two are organised in genres (adventure, sport, classic texts, poetry etc) with books arranged in boxes and every book labelled accordingly.
Pupils have the opportunity to read independently every day and class teachers read to pupils each day in story time from the Caedmon Reading Spine book list. During the year, we offer an extra-curricular Book Club and a Poetry Club where pupils can build on their skills and explore books just for fun.
We have a dedicated school library, with time for every year group to visit and borrow books and we provide opportunities for reading across the curriculum.
At Caedmon Primary School, reading is not confined to the indoors! Each Key Stage has their own outdoor 'Reading Retreat' where pupils can enjoy a book in comfort at playtime.
We take every opportunity to celebrate reading through events such as: our Storyteller day, Author experiences (real life or virtual) World Book Day and World Poetry Day and special events such as our annual 'Reading Picnics' when parents and carers are invited into school. We give reading a high profile e.g. pupils with 100% attendance each week are entered into a prize draw, with winning pupils receiving a book as their prize; reading hampers were put together for our Christmas Fair raffle.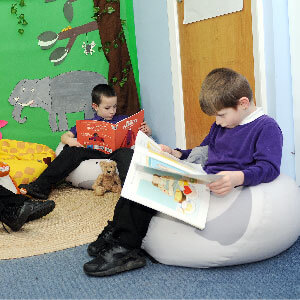 Parental Engagement:
Reading at home
Pupils in the Early Years and Year 1 read books matched to phonic ability at home and school, as do any pupils who have not yet fully mastered their phonic skills. Most books are provided from the Oxford Reading Tree which includes fiction, non-fiction and poetry, however this is supplemented with books from other phonic schemes. Most pupils from Year 2 upwards read books from the Oxford Reading Tree at their individual comprehension level. Pupils take these books home and parents record comments in their reading record. Pupils are rewarded with weekly prizes for regular reading. In Years 3-6, we use the Accelerated Reader Programme to boost motivation for reading.
Caedmon Primary actively promotes wider reading. Our Caedmon Reading Challenge (with bronze, silver, gold and platinum awards) focusses on pupils reading books by different authors and from different genres and they win certificates and an increasing range of exciting prizes including book marks and books. In addition to their reading scheme book, pupils are encouraged to take home a free choice book from the classroom reading area each week. These books can help them to complete the Caedmon Reading Challenge.
We have our own Caedmon Bargain Book Fair, selling books at minimal profit, in order to encourage reading at home. We hold Reading Café events for parents to enjoy book related activities with their children.
We celebrate these events with parents through our website, Facebook page and end-of-term newsletter.
Standards and Attainment
Pupils make progress in phonics and reading through careful, ongoing assessment which is checked using a range of planned, formal assessment opportunities. This informs teachers and leaders of pupil progress which is shared with parents and governors.
High Quality Teaching and Learning
The English leader ensures that all staff have high-quality training so that they are experts at teaching reading. Leaders monitor and moderate the teaching of reading to ensure high-quality teaching and assessment.
Impact of the English Curriculum
Pupils at Caedmon Primary School, leave Year 6 with confidence, fluency and understanding of language and literacy. They have a range of independent strategies and transferrable skills and are able to take responsibility for their own learning, including monitoring and correcting their own errors.
The main source of impact can be seen in the quality and breadth of work seen in pupil's books and the learning environment. We strive to raise the expectation of learners and the quality of work they produce from a curriculum which is designed to provide a depth and wealth of knowledge.
The impact of our curriculum can also be measured against the outcomes of all schools nationally at the end of each key stage. But, most importantly, by how effectively it helps our pupils develop into well-rounded individuals who embody our values and carry with them the knowledge, skills and attitudes which will make them lifelong learners.